Adding the contributor lists to a project is an essential part of registering a project.
These are the individuals whose survey answers will be included in the de-identified reporting in connection with the project. If the individual is not yet registered on the platform they will be invited to respond to the survey.
When to add contributors
Register your project, including adding your contributors, as soon as practical after commencement of production when most individuals are engaged.
The aim is to reach people when they are most engaged and likely to contribute. Learn how to maximise your participation rates here.
If your contributor lists change after this date you can replace them, add new lists or add contributors individually.
Add contributors
On the Project Registration form click the MANAGE CONTRIBUTORS button.
Select either the Cast or Crew page (data must be uploaded as separate lists)
Click the UPLOAD LIST button
Click the BROWSE button to locate the file containing cast or crew data
Upload your cast and crew lists in Microsoft Excel .xlsx format (the most common in use in the Australian screen industry). Contributors who are not on your cast and crew list can also be added in additional lists or individually.
Other software often has the capability to save a file in this format too. If you are having difficulty creating an .xlsx file, read this article.
Essential details to include
We require the following basic information. Your contributor lists may can contain other information but this won't be captured.
Role type/title (e.g. Director, Lead Actor, presenter),
Character name (for scripted)
Email or, if no email, mobile number
Indicate if the email/mobile is their own or a parent/guardian or agent's
We recommend using our templates as the layout and headings will ensure that data can be uploaded quickly and without error. You can also learn more about preparing your own lists in this article.
All on-screen and crew contributors, directly or indirectly, engaged by a production and who have provided appropriate consent to be contacted should be included. Learn more here.
Map data
The next step after uploading cast or crew files is to you confirm which columns contain essential details.
If you are using our templates, no data mapping is required. Simply click the CONFIRM MAPPING button. Otherwise, map data is used to identify which column of data corresponds of the essential data fields required by the platform.
Select or deselect Does your data contain a header row? as appropriate. If selected, the preview will colour the header row blue.
For each column, select the corresponding essential data heading from the drop down lists




When each essential data field has been mapped, click the CONFIRM MAPPING button.
You are now able to make final edits to the data before continuing
Select Episodes
The final step applies only to series. Specify in which episode(s) the contributors will appear.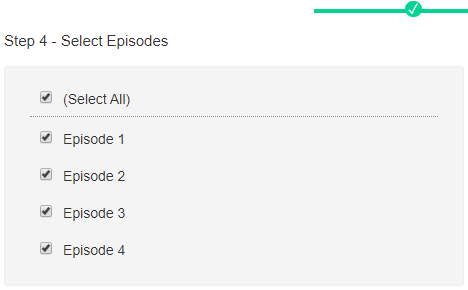 Your choice applies to all those in the list being uploaded so if each episode has different cast and crew, you may either:
upload a list of all cast and crew and edit who participated in each episode after upload
upload different cast and crew lists for each episode
a combination of both
Edit data after upload
On the Project Registration form click the MANAGE CONTRIBUTORS button
Select the Cast or Crew page (data must be uploaded as separate lists)
Click the EDIT LIST button
All uploaded data including episode participation may now be edited. You may also:
add cast and crew directly to the list
delete individuals